My journey there was short and easy and got to the place we were staying quickly. Wasn't long before we was unpacked and exploring the city centre. The whole city in general was so clean and tidy, everyone there was so polite and helpful. The other thing I loved was when your shopping including the little markets you find which are my favourite, you are not forced or pressured to buy anything. They are more than happy to sit next to their stall and smile and help you were possible, other countries I have been too they are only interested in your money and very quickly pressure you to buy something. 
A man approached me and my sister and told us to open up our hands. He put bird food in to our hand and within seconds we had so many of them all over us eating the food. This man was not expecting any money and was about to walk off before we offered to give him some as he never expected it and made our experience so much more memorable.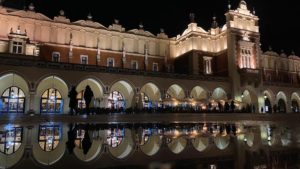 Now about the city the architecture Of all the buildings were amazing and there all so pretty and well kept, another reason I wanted to come in the first place. The moments surreal when you're just stood there looking at all the buildings around you, the horse on carriages and hearing the clicking from there hoofs on the pebbles flooring and the booming colourful And fresh smelling markets and stools. Food and drink wise I didn't think it was expensive and you got your value and good quality food. We went to this little restaurant where you could basically create a pizza. There was so many topping and sides that I would have never considered on a pizza but it went so well and the portion size was massive. 
We stayed in a apartment which was a walking distance to the centre, this was equipped with everything needed and we got it for £40 a night and that was for 3 people. Wieliczka Salt Mines Which is just outside of Kraków was so cool, after taking 800 steps to be exact below ground to find tunnels and tunnels that open up in to larger rooms that were filled with marbles and amazing structures. We also tried the water that was inside the mine which was very salty, some people on our tour also licked to walls to experience how salty it can be. After the tour I bought some salt and bath salts to bring home with me. 
Overall my experience of Poland has been amazing and it's definitely one of the most greeting and welcoming country I have been too.