For those who seek even more 'authenticity and adventure, then without hesitation, you must go to Erg Chegaga. It is located south of the city of Zagora, about a 12-hour drive from Marrakech. After the village of M'Hamid you will leave the road to take the track for a 2-hour journey through the real desert, where unreal landscapes follow one another such as dry rivers (Oueds), Regs, Hamada and finally the very wild and majestic Erg Chegaga. This region is still preserved from tourism and remains wild. A fragile pearl to which one must pay attention.
Between Chebbi and Chegaga, it is a difficult choice! I would advise you to see both. But I still have a slight preference for Chegaga and its wild side, the road to get there is a great adventure. 🙂 Above all, never venture into this place alone and without a guide: do not forget that you are in the heart of the Sahara and that if the climatic conditions change, you could get lost.We highly suggest that you book the following: 3-day Marrakech safari jeep – Discover Erg Chigaga or Marrakech 4 Days Desert Tour to Erg Chigaga.
Erg Tinfou and Erg ElYoudi
There are many other Ergs in the Moroccan Sahara, but I have described the two most important popular ones. There are a multitude of small Ergs which are often tourist traps. You can keep in mind the following names: Erg Tinfou and Erg ElYoudi. The first is at the gates of Zagora and at the edge of the road. Indeed, you can book the Private Marrakech to Zagora desert tour, 2-day Marrakech desert tour or 2-day Marrakech desert safari jeep.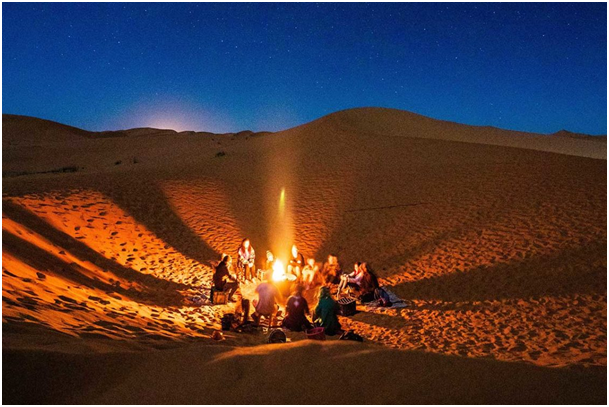 The second is better but it's such a shame to have traveled so many kilometers to find yourself so close to the goal and limit yourself to these tourist fairs where the bivouacs abound. Let's not forget that a desert is by definition an area where the population density is very low.
Be aware!!! Some agencies offer 2-day Marrakech desert tour or Marrakech desert tour 3 days. In our opinion, this is a mistake! To go back and forth, I recommend a circuit in minimum 4 days, the ideal being 5 days and more. There is so much to see and visit. Besides, part of the road is mountainous. It is not recommended for families with young children or babies, there is too much road for them, and it is sometimes difficult. But if you want to take your kids into this journey, a private tour would be ideal.
I hope this article will help you vacation your vacation and your desert tour from Marrakech. In addition, wecan provide good itineraries and packages. We also have preferred partners that provide exclusive rates. Do not hesitate to contact us if you need assistance planning your trip.
I wish you a great vacation in our fabulous country. Trek Salama!