There is no better way to lift your spirits than going on hiking on remote trails. Not only do you get to enjoy the scenery, but it is also great for your health. Fresh air and regular physical activity can make a world of difference to your physical and mental health. Many people believe that their hiking experiences have been a real life-changer for them.
Spectacular landscapes and fresh air can completely de-stress your mind and feel one with nature. However, hiking can sometimes be a challenging endeavor. You will need to be proactive about choosing the trails, planning your travel time, carrying your gear, food, and drinks, etc.
Some people like to trek solo, while others prefer the company of other people. If you have the time, then you must go on a hike with overnight camping. If you plan to stay for more than a few days or wish to travel to a distant land, you will need to carry more supplies and gear.
Hiking with heavy loads can be incredibly inconvenient, especially if you are not a regular backpacker. Carrying heavy loads can trigger the chances of foot-sole swelling, foot blisters, knee pain, rucksack palsy, and low-back pain.
Is there a solution to this problem?
Now let that not discourage you. You can easily take the weight off your shoulders and place it on the wheels, even on the rugged trails. All you need is a portable hiking trailer, as it allows you to walk comfortably and faster by using less energy, and it also reduces the chances of injuries during your treks. You can check out https://hipstar.net
Health benefits of outdoor hiking
Physical 
Most of the trails give you a comprehensive body workout. You get physical benefits like –
Muscles and bones get strong
Sense of balance improves
Strengthens your core
Improved heart health
Reduce respiratory issues
Helps in reducing your body weight
Psychological health
Even a short time spent in nature boosts your mood and enhances your mental health. It relieves your mind from stress and induces calmness, which in turn reduces the risk of depression.
Breathing fresh air clears your sensory organs. The increased flow of oxygen to your brain and makes you think clearly. The trees are natural air purifiers, so you inhale pure and clean air. The positive effects of outdoor activities also decrease the risks of brain degenerating issues.
Your mind relaxes as you envelop the calmness of nature around you. As you keep walking, your worries start to dissolve. At one stage, you will feel that there are no reasons for you to worry. It is always wiser to live the moment where you find peace.
The human body has evolved and moved away from nature. We have protected ourselves from the elements to stay dry and warm. Hiking allows for improving the telomeres activity. Telomeres are found at the tip of chromosomes and are responsible for how rapidly cells age. The more you nurture them, the a long and healthy life you will live.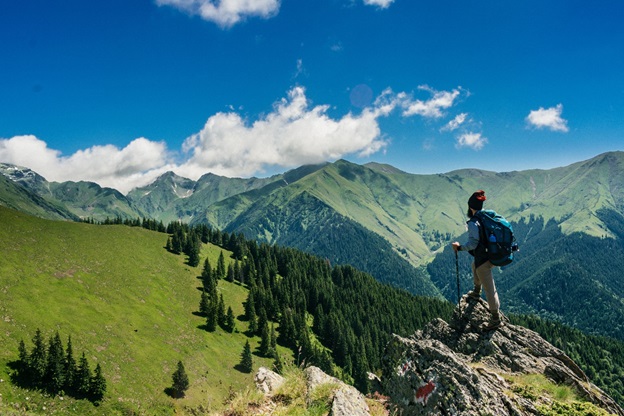 Improves relationships
You can lace up your trekking boots and go with your friend or partner. Challenging situations and difficult trials help to strengthen your bonding with your companions. You can enjoy priceless experiences together like wildlife sightings and stargazing under black skies in silence.
The serenity that is accompanied by physical drive instead of mental stress is truly incredible. If you have a weight loss goal, you can burn more than 5,000 calories on a one-day hike.
Make sure you prepare a list of things you need to pack in your hiking trailer before hitting the trail!